Ever wanted to practice magic?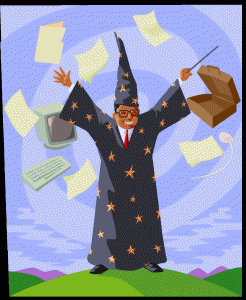 Any sufficiently advanced technology is indistinguishable from magic.
Arthur C. Clarke, "Profiles of The Future," 1961 (Clarke's Third Law).
Learn Office with

Our Best Word Wizards
Advance your technological capabilities!
Contact us to learn about our courses that can add magic to your career and broaden your horizons!
Our Office courses prepare you for Microsoft Certification requirements!
Word Basic

Follow the creation of a document from opening a new document through creating and formatting text, setting page appearance, layout, and objects from tables to numbered and bulleted lists all the way to printout.
Learn the tricks and tips to take advantage of all the features Word offers to create absolute control your documents' format and structure to give it a superior professional appearance, structure and stability.
Learn to navigate common problems, retrieve, and protect documents from everyday losses and crises.

Word Intermediate

Bring your Word skills to a more sophisticated level, learning how to create and modify documents, elements, objects and structure that you already use but can now customize.

Create and modify styles for text as well as lists, and tables.
Learn to use the structure of your document to navigate, search and reorganize your document.
Work with multiple documents and multiple views of documents.
Compare and merge documents.
Reuse blocks of text and automate tasks (Building blocks, Quick Parts).
Learn to use the document structure to create references including bookmarks, hyperlinks and cross-references, foot notes and captions and generate tables of contents, bibliographies, glossaries and indices.
Use and modify graphic elements and integrate them with your text.
Share documents online via e-mail, Fax, Cloud, blogging and publishing to the web.
Use the Mail Merge feature.
Control page layout and text flow using a variety of methods.
And more….

Word Advanced

Advanced techniques to expand, modify and customize your use of the advanced features of Word including: Mail Merge, Quick Parts, Building Blocks and Fields.

Generate charts that you can further format and modify to add clarity to your documents.

Learn how to use macros to enhance automation of tasks, reuse text and use databases to create and modify forms.

Enhance your ability to work collaboratively.

Learn security techniques to prepare your documents for sharing including permissions, document inspection and digital signatures.

Use Word to interface with other Microsoft Office Suite programs such as PowerPoint, Excel and Outlook as well as with fax and other office technology.

And more …
Our courses are taught in state-of-the-art facilities by top industry professionals.
These are modular courses which, along with the Marketing Writing (MarCom) module, are part of our flagship Technical Writing and MarCom Course. We recommend taking the complete course to broaden your skill set and increase your employment possibilities.
Space is limited and registration is on a first come, first served basis! Contact us for more information.
Email: training@ourbestwords.com
Tel: 02-656-3369 /050-529-0775/ 058-429-0775