ARE YOU READY TO ADD SOME MAGIC TO YOUR CV?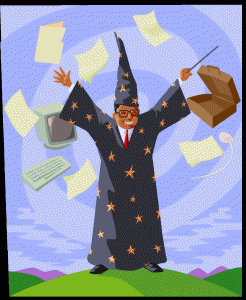 Any sufficiently advanced technology is indistinguishable from magic.
Arthur C. Clarke, "Profiles of The Future," 1961 (Clarke's Third Law).
Learn to use the magic of the Web and effectively market yourself.
Advance your technological capabilities.
Write to increase your presence online and the effectiveness of your marketing promotion to your customers and keep them coming back.
with


Our Best Words Web Wizards
Contact us to learn about our courses that can add magic to your career and broaden your horizons!
The course contains a series of modular courses that can also be taken separately to enhance your knowledge of a particular aspect of Web Communications.
Internet Marketing—Business is global as well as local and marketing is far from one-size-fits-all. MarCom professionals must take into consideration the product positioning, PR, languages, translations/localization ("glocalization") and other cultural considerations to consider in a target market in preparing an marketing approach to designing a website, and collateral materials.
Web Content Writing—Write effective online marketing content (MarCom), blog and web page content, and newsletters to draw people to your web page once, stay to explore and keep them coming back regularly.
Social Media—Social media is fun but is also a serious marketing tool that the commercial and corporate world has transfigured into a standard part of their marketing repertoire. Familiarize yourself with how to use blogs, LinkedIn, Facebook, Twitter, and YouTube to make the most effective use of marketing your product or service to customers or to other businesses.
Search Engine Optimization (SEO)—Leverage social media to promote your company's brand. Learn to how and why to write content that increases your company, product or service's online presence and its presence in your customer's minds.
Website Design—Design a basic web page using HTML. Understand the structure, content and SEO of a corporate website. Learn the use of Flash, images, tags, keywords and downloads. Understand and harness the power of FAQ.
Are you a consultant or freelancer?
Our courses are valid training expenses. We give VAT receipts.
Our courses are taught in state-of-the-art facilities by top industry professionals.
These are modular courses which, along with the Marketing Writing (MarCom) module, are part of our flagship Information Development and Technical Writing course. We recommend taking the complete course to broaden your skill set and increase your employment possibilities.
Space is limited and registration is on a first come, first served basis! Contact us for more information.
Website: http://www.technicalwriting.co.il/courses/ Email: training@ourbestwords.com.
Tel: 02-656-3369 /050-529-0775/ 054-566-4075