Graphilosophy, a graphic and web design studio in Jerusalem, specializing in design of corporate identity and web sites. Based on the Swiss School of Design, Graphilosophy's approach combines functionality, creativity and technology to translate your messages into a graphic language.

Outsourcerers specializes in real-time embedded software. Programmed on numerous hardware platforms (from 4-bit microprocessors with a few bytes of RAM to PowerPC and ARM-7/9 with gigabytes) in commercial, industrial, and military projects. Outsourcers partners with several hardware designers, and can produce your project from idea to running silicon from start to finish.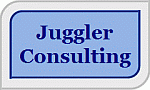 Juggler Consulting's Scott Seltzer has worked as a Quality Assurance (Software Testing) Manager, and in technical support, technical writing, training, and graphics work. He also builds web applications and custom-databases for various organizations. His hands-on approach combines technical expertise, creative tactics, and compulsive attention to detail.